Peter Parkers Glasses - Oliver Peoples Larrabee!
Peter Parker is wearing Oliver Peoples Larrabee in new Spider-man Movie We went to see the new Amazing Spiderman last week. It was a really enjoyable movie. The action was great, the acting was well done, and had a really fun direction for the franchise to go. Of course we couldn't help but notice the great glasses the characters were wearing. We were nearly positive and just got it confirmed that 2 frames from Oliver Peoples were in the film. Peter Parker was wearing an Oliver Peoples Larrabee and the other frame was the Oliver Poeples Emerson. We just love Oliver Peoples and glad to be part of the family. The Eye Bar always has a great collection of Oliver Peoples glasses in the store. Go see Spider-man if you haven't yet. Its worth the price of admission! The Oliver Peoples Larrabee frame can  be purchased on our webstore here! Take a look at the frames below!
Buy Oliver Peoples Larrabee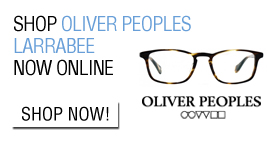 Order the Oliver Peoples Larrabee frame as worn by Peter Parker in "The Amazing Spiderman"
Recent Blog Posts
07-16-2014
For the Love of your eyes, Please change your contacts! We just read an article about a college student who lost your vision because she did...
Read more
06-06-2014
The Oliver Peoples Sofee is a perfect frame with vintage styling and a modern spin for todays women. Heres what Oliver Peoples describes them. "Reminiscent of iconic...
Read more
We are excited to be the exclusive store in St Louis to carry TD Tom Davies custom eyewear. Tom Davies is available in ready to wear frames (you know, great…

Mykita Eyewear - How its made. Mykita eyewear is a fantastic line of german handmade eyeglasses and sunglasses direct from Berlin. The Mykita Haus has the design team, graphic artists, and…