Peter Parkers Glasses - Oliver Peoples Larrabee!
Peter Parker is wearing Oliver Peoples Larrabee in new Spider-man Movie
We went to see the new Amazing Spiderman last week. It was a really enjoyable movie. The action was great, the acting was well done, and had a really fun direction for the franchise to go. Of course we couldn't help but notice the great glasses the characters were wearing. We were nearly positive and just got it confirmed that 2 frames from Oliver Peoples were in the film. Peter Parker was wearing an Oliver Peoples Larrabee and the other frame was the Oliver Poeples Emerson. We just love Oliver Peoples and glad to be part of the family. The Eye Bar always has a great collection of Oliver Peoples glasses in the store. Go see Spider-man if you haven't yet. Its worth the price of admission! The Oliver Peoples Larrabee frame can  be purchased on our webstore here!
Take a look at the frames below!
Buy Oliver Peoples Larrabee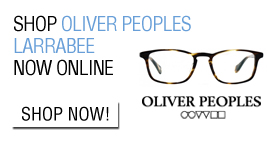 Order the Oliver Peoples Larrabee frame as worn by Peter Parker in "The Amazing Spiderman"
Recent Blog Posts
12-23-2013
Mykita Eyewear - How its made. Mykita eyewear is a fantastic line of german handmade eyeglasses and sunglasses direct from Berlin. The Mykita Haus has the...
Read more
10-22-2013
We're having a trunk sale! Take an additional 20% off with a Glennon Card! The Eye Bar is having a trunk sale and is offering extra savings...
Read more
Have your children started complaining about not being able to see the whiteboard at school? Perhaps they've started inching closer and closer to your family's flatscreen or holding their iPads…

Attitudes about eye glasses have change dramatically over the last couple of years. Vintage style and "geek chic" have changed the way people think about glasses. For many people, fashionable…